Whether you are tackling most cleaning tasks yourself, or investing in domestic cleaning services on a weekly or monthly basis, it always feels good to be able to relax in a clean and tidy home. However, for most households, that sparkly clean feeling doesn't last very long! Even after a proper clean, there are always certain chores to keep on top of to make sure your home stays clean.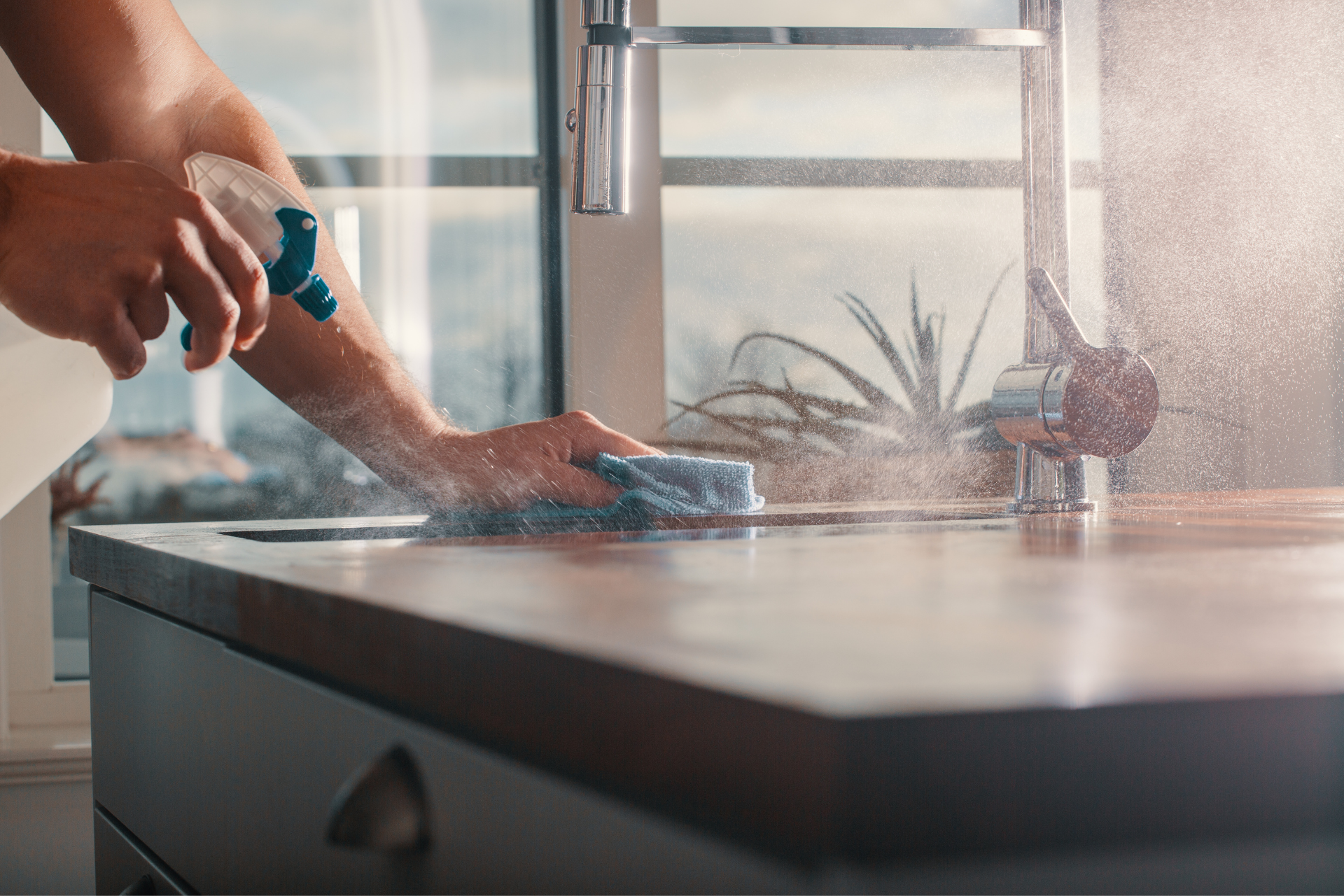 Sweep, vacuum or mop high traffic areas
Every home has high traffic areas where your family is constantly moving in and out. As a result, dust, crumbs and dirt build up on the floor quickly. We recommend giving floors in busy rooms such as kitchens, hallways and main lounge areas a once over every day to keep them looking clean and tidy. Depending on the floor surface, whether it is carpet, hardwood, tile or laminate, simply sweep, vacuum or mop.
Clean countertops, sink and stove tops
You might be surprised just how quickly germs can build up in your kitchen. Make it your routine to always wipe down kitchen surfaces such as countertops, your sink and stovetop with a sponge or damp cloth every day. If you cook every day (or most days), then a daily wipe down helps to keep surfaces clean, free of germs and more hygienic for cooking and serving food.
Wipe down your shower
It's a good habit to use a squeegee to wipe down your show or bath surfaces after you shower. Squeegee your shower door or shower curtain to wipe away moisture and leave the surfaces clean and streak free - just a few strokes up and down will do. This simple task helps to prevent the buildup of mould, so keep a squeegee hand in your shower or bath so you don't forget.
Weekly bathroom wipe-down and toilet clean
We would recommend that you always spend half an hour a week taking time to ensure your toilet is clean and to wipe down bathroom surfaces. Take care to wipe down to wipe down your bathroom sink, taps and mirror. You can even spray a tile cleaner on tiled surfaces to leave your bathroom gleaming.
Cleaning the toilet is certainly not a job that anyone looks forward to, but it only takes a few minutes to brush around the bowl, add a little bleach, and wipe down the exterior of the bowl and cistern.
Fridge and microwave
Take a few minutes each week to review the contents of your fridge and throw away any food that is past its best. While you are doing this, take the time to wipe down the interior surfaces of your fridge, paying close attention to any surface that food has touched or leaked onto.
Be sure to tackle microwave cleaning regularly. Ignoring the build up of food splashback only makes it harder to clean as it is heated up time and time again. For tough food stains, you can add a bowl or water with added lemon slices and heat it on full for a minute. This will help to loosen food debris stuck to the walls of your microwave, making it easier to wipe down.
Stay on top of dishes
Don't let dishes pile up in the sink or on the sideboard! It can be easy to think "I'll leave these for later", but when you are busy, dishes, plates, pots and pans can quickly build up and are a breeding ground for bacteria. It's always best to wash as you go, or load up the dishwasher right away to make life easier.
Domestic cleaning services to suit you
Whilst it's important to keep an eye on certain cleaning tasks, to help make your life easier and leave you with more time to yourself, investing in a little domestic home help is always a smart idea.
Whether you are in need of regular scheduled cleaning services, or occasional cleaning help, we can help.