Refreshingly Different
Cleaning the way you want it cleaned
Domestique has been providing professional Domestic Cleaning services throughout UK for many years. Our expert cleaners provide a wide range of specialist Domestic Cleaning services that ensure you get the look and feel of a brand new house/apartment. We are fully recommended by our local clients.
Call us NOW 0845 625 9895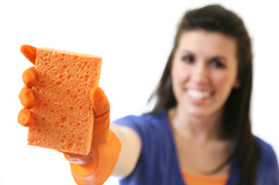 We're all about quality of service
Only local cleaning service with Written Guarantee
Reputable local family business
Best value for money around
Professional and reliable team
Totally honest and fully insured
Absolute privacy assured
Most rigorous cleaner selection process around
Is your day jam-packed with work, children and other activities that often leave cleaning for the weekend?

Vacuuming, dusting, ironing and other cleaning tasks are no longer your problem! Because your time is precious you'll be better off by just leaving it to us...
Client Testimonials
Here's what some of our clients say about us.

Leigh is reliable, prompt and courteous - and does a great job cleaning!

Gary B

November 16, 2023 08:25 AM
My cleaner is very thorough reliable Domestique are a professional organisation with a heart Nothing is to much trouble

Annette K

October 24, 2023 05:51 PM
I have been extremely happy with my housekeeper she is amazing and so reliable and have recommended Domestique to friends and family.

Pauline G

June 22, 2023 07:50 AM
Fantastic reliable service, great value, thorough job each clean, Caroline was really helpful when I first joined up to the service and regularly checks in to make sure everything is going well.

roxanna c

May 29, 2023 08:39 PM
I have been using Domestique for 18 months and have been very satisfied with their excellent service. Very professional, excellent staff and cannot recommend them highly enough.

Pauline G

May 29, 2023 07:56 PM
Pauline G

May 29, 2023 04:57 PM
I have been really impressed with the service from Domestique - they have been very helpful in setting me up as a client and professional throughout. We are absolutely thrilled the lady they have sent to clean in our home - she is absolutely fantastic. Again so professional, accommodating and organised - she pays amazing attention to detail and has really helped improve our home. Cleaning day is now my favourite day of the week!

Rebecca A

May 06, 2023 11:52 AM