Whilst it's increasingly common for Britons to pay for domestic cleaning services, there's still a lot of stigma around the idea of employing someone else to do your housework.
Here we offer five very good reasons why hiring a cleaner to help keep your home clean and tidy is not only rational and productive, but well-deserved.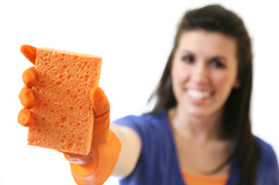 1. We pay for services every day
We pay other people to do a lot of things in our day-to-day lives. For example, how many of us grow our own food, make our own clothes or cut our own hair?
The simple truth is that we pay for these commodities and services to make our lives easier, and employing a domestic cleaner is no different.
2. There's no shame in needing help
Modern life is fast-paced and stressful with demanding schedules leaving us with very little time for rest and recuperation. We work hard for the people we love but often have very little opportunity to enjoy quality time with them.
Domestic cleaning is a frequent and time consuming task, so seeking the support of a house cleaning professional really can give back some of that precious time.
3. Lots of people do it!
You're not the only person who needs some extra help, and certainly not the only person thinking of hiring a cleaner. A report published in 2016 indicates that a third of UK households pay for help with domestic chores on a weekly basis.
That's one million more than just a decade ago!
4. You're offering someone else a flexible income
By hiring a cleaner you're actually providing a flexible part-time income to someone who, like yourself, is seeking a better work/life balance. Many members of the team here at Domestique gain a valuable income through cleaning that works well around personal responsibilities such as childcare.
5. You've earned the privilege
You work hard to provide for your family and loved ones, so don't you deserve the chance to put your feet up and enjoy some spare time once in a while? Whether it's watching TV in your pyjamas, a date night with your partner or quality time with the family - that little bit of spare time is well worth the cost of hiring a cleaner.
If you're like to find out more about our household cleaning services, please follow this link.