The oven. It is one more thing to clean and yet you can tell that it needs doing when it smokes whilst cooking and impairs the flavour of your food. When you're busy, cleaning the oven may not be your top priority and, besides, where do you start? Once you start removing wire shelves and realise they won't fit into your kitchen sink, it's time to call in the professionals.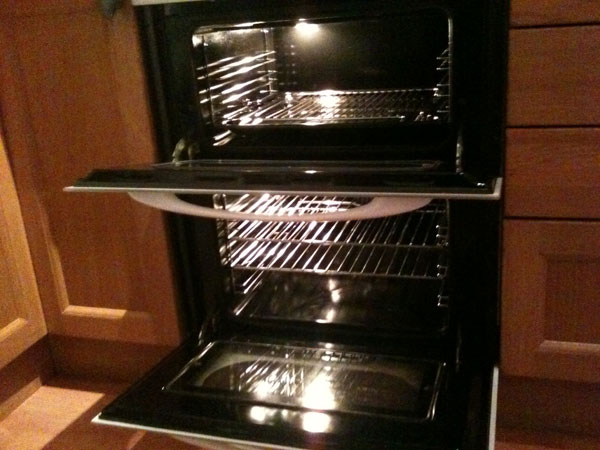 You won't only benefit from a sparkly clean appearance as there are a number of other benefits to getting your oven cleaned – including saving time and money!
Here is our list of top oven cleaning benefits:
Saves time – cleaning the oven is not a 10-minute job and no doubt you will have other cleaning tasks ahead of this on your housework priority list. Not only will hiring a professional oven cleaner mean that you don't have to set a whole morning or afternoon aside to tackle this unwelcome task but you'll also be able to put that time to better use – such as tackling your other priority cleaning tasks, or better still, shopping or lunch with friends!
Saves money – having a clean oven can save you money. This is because when the oven is completely clean and clear of food debris it actually takes less time to heat up, which means you don't have to leave it on so long and can save money on your energy bills. Also, if the glass door is clean you can peek in to see if food is done, rather than having to open the door every few minutes, which lowers the temperature and wastes energy in getting it back up the desired temperature.
Makes food taste better – there are few benefits tastier than this one. A clean oven will distribute heat evenly and without the residue and grease spillages from previous meals affecting the taste of the food being cooked.
Decreases fire risk – an unclean oven poses a greater risk than tainted food. Left unclean, grease and dirt build up inside the oven, particularly around the internal fan, increasing the risk of fire, not to mention fostering vast amounts of bacteria. Having your oven cleaned will not only mean the cooking process is more hygienic, but it will be safer too.
Eliminates smoke and smells – using a grease filled, dirty oven will produce smoke and a lingering smell that can last for hours after food has been cooked, giving the kitchen and even the whole of your house an unpleasant odour. Keeping on top of your oven cleaning by investing in a regular clean will eliminate smells and smoke and keep your food quality high.
There's no shame in admitting you have a dirty oven! Not many people have the right equipment and cleaning products to do the job properly so it makes sense to leave it to the experts.
To book your professional oven valet, speak to Domestique today on 0845 625 9895 or find your local branch here.